Ref:
Date:
Location:
Photographer:
Ref:
Date:
Location:
Photographer:
The Book
Like the precious metal of the title, SILVER owes its beauty to the craft and skill of an artisan, the fine art photographer Jonathan Chritchley. SILVER is Jonathan's first book, an eclectic yet cohesive and enchanting collection of more than 70 black and white photographs that reflect his love of the water and an intrigue with its many forms and moods. From the vibrant energy of classic yachts in full sail to the sensual calm of a misty Venetian canal, SILVER is an absorbing voyage to distant shores and familiar ports. Through the eye of Jonathan Chritchley, every photograph in SILVER is a sight to behold, admire and treasure. And with its stunningly minimalist matt graphite cover with, of course, silver text, this lovely book is as pleasing to the eye on the outside as it is on the inside!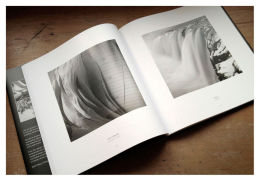 B&V: WHAT WAS THE INSPIRATION BEHIND 'SILVER' PROJECT?
JC:
The main inspiration was of course water. Or at least water as I see it, whether it be a classic yacht under full sail, a comorant fisherman in China or a fruit seller on the beaches of Zanzibar. I am fascinated by both the ocean and the plants, people and animals who have adapted to live in and around it. As a child I used to be spellbound by the films of the great Jacques Cousteau - the sense of adventure and exploration was incredible - and although I ultimately went in a slightly different direction, the seed was sewn.
WHERE DOES THE TITLE 'SILVER' COME FROM?
Although I work principally in black and white, I find the term a little two dimensional. I strive to bring out the light and tones in my photographs, the soft greys, the charcoals, and when it comes to the sea, the silver. Bingo!
WHICH INTEREST CAME FIRST, PHOTOGRAPHY OR YOUR LOVE OF THE SEA?
The sea really. I have always been a swimmer, and although I spent the first part of my life just outside London, a long way from the sea, I used to long for the summer holidays to France, Italy and Spain where the sun was warm and the ocean blue. When I was 13 we moved to the south coast of England and at that point the sea really took hold of my life. Since 1998 I have lived in the South of France, on the west coast not far from Biarritz. We're surrounded by water here; lakes, rivers and of course the Atlantic Ocean, and the area is unbelievably unspoilt, so it's like a paradise for me.
BUT YOU OBVIOUSLY TRAVEL A GREAT DEAL TOO?
I do travel quite a lot, always to other water locations, either on my own to shoot for my portfolio or leading photo tours with my company Ocean Capture. I love the area around where I live, and feel very fortunate to be based here, but I also love to explore new areas - this year I've been to Iceland 3 times, Italy, Mozambique, South Africa, Cornwall in England, and a few other coastal parts of France.
SO NOW SILVER IS FINISHED, ANY NEW BOOK PROJECTS ON THE HORIZON?
I think it's a bit addictive this publishing thing! Yes i have a few ideas on the boil at the moment - a book of my work with the Camargue horses, a classic sailing yacht project and another to do with East Africa and the trading dhows… I'm not sure which will come first but we'll see! One thing is for sure… it will have something to do with water!
SILVER is Jonathan Chritchley's first book. You can see more of his work at
www.jonathanchritchley.net.